A VISION WAS BORN…
Taking elements from his own life, writer/star Andrew Perez wrote the screenplay of Bastards y Diablos in five months and immediately hopped on a plane with his co-star/producer Dillon Porter, director A.D. Freese, and the three other crew members of the original Skeleton Six. They began shooting immediately at the Fort Lauderdale airport... the goal was to capture this script while on an unpredictable voyage of their own - to fuse preparation with improvisation, craft with spontaneity, actors with nonactors, the nuanced particular with the epic myth... inspired by the work of John Cassavetes, this band of ninja filmmakers set out to create a vital, unpredictable, and intimate tapestry of ensemble performances relayed uniquely through a mythic visual storytelling lens. The images paint the universal thread of brothers walking in their dead father's footsteps while the up-close moment-to-moment immediacy roots the audience in a docu-like reality, splashing the audience awake to the rapids of unknowable life, grief, and adventure... Colombia proved to be a willing and fertile participant in bringing this vision to life. Here are some pictures of the journey.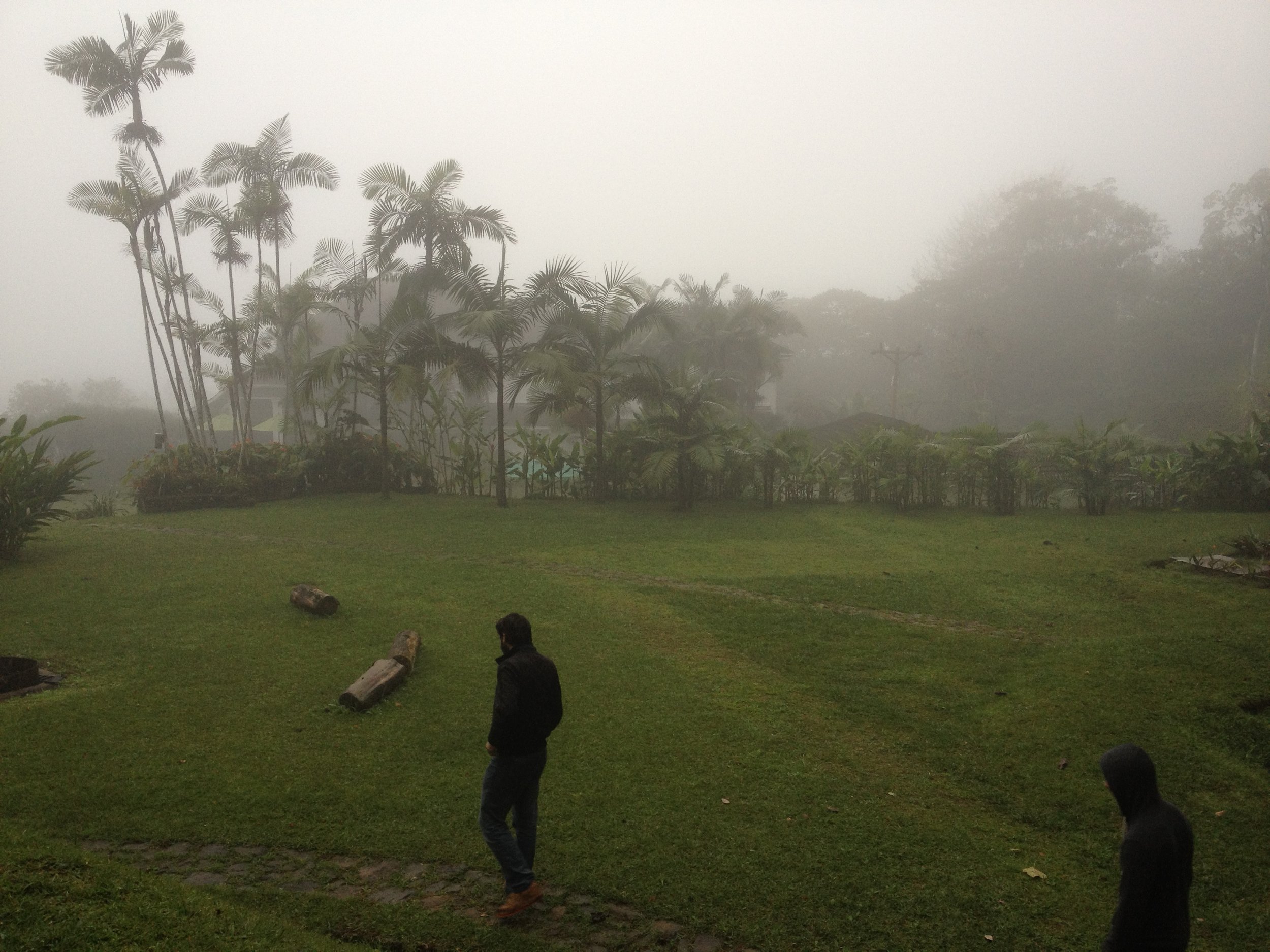 NOTES FROM THE ADVENTURERS
Bastards y Diablos was shot entirely on location in Colombia in over a dozen cities and their surrounding environments. Our crew of six had 35 days to make five flights, navigate unfamiliar cities, find local actors, and secure viable shooting locations. There were concerns about safety, the language barrier, and the likelihood of gaining access to remote regions of the country. It was an unconventional production in every sense, and required creative solutions at every turn. Much of the production's success can be attributed to the support of family.
Surrounded by people we trusted, we had more than just translators at our sides: we had uncles setting up casting calls, cousins scouting locations, and grandmothers decorating sets and providing catering. In addition to becoming de facto crew members, much of the family were put in front of the camera as well. They had no acting experience, but their genuine desire to share their familial love and express their connection to the story gave their performances authenticity.
Through these family connections we were put in contact with Colombian television actors Sebastian Eslava and Juanita Arias, who were cast in pivotal roles. They had just wrapped a long arc as lovers on the telenovela Mama Tambien, and came to set with an already-developed chemistry.
Beyond the circle of family, we found Colombians at every location who proved to be natural actors. Padre Gabriel Mejia, a priest who runs a foundation for abandoned kids (the subject of Saving The Disposable Ones, a documentary released by the David Lynch Foundation) in many centers across Colombia, exemplified the natural, un-self-conscious ability to connect with others on screen that gives the life of this film its unique quality.
The natural beauty of Colombia emerged as a character itself, though some of the more stunning locations proved difficult to access. We chopped our way through banana trees with a machete, ran out of gas driving up the desolate coast of Guajira, and clung to our equipment when whitecap waves blasted our raft in the Pacific. Reaching these remote locales would have proved impossible for a larger production, yet our small crew - who had risked our lives for our film - were rewarded with unspoiled beauty.
We wrapped shooting from a rooftop overlooking the walled city of Cartagena. The click-clack of a horse drawn carriage echoed across cobblestone. In the distance the sound of a lone trumpet signified the passing of another hour; we knew that it marked the end of our time also. We reflected on the country that had given so much of herself, and her people full of pride and passion. It is to them that we owe this film.
the festival run... #Bastardsrun